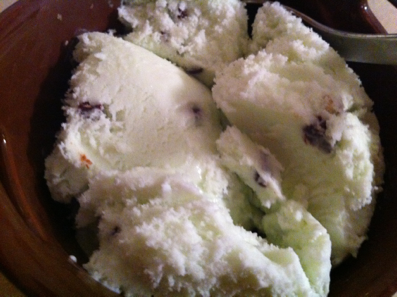 This yummy recipe is perfect year round! This has an ice milk consistency and requires no eggs or cooking.
Ingredients
:
2-1/2 cups Half and Half
1/2 cup Heavy/Whipping Cream
2/3 cup Sugar
1/2 tbsp Vanilla extract
1/2 tbsp Peppermint Extract
Green Food Coloring
Andes Mint Baking Pieces
Instructions
:
Whisk together all ingredients except for the Andes mint pieces until sugar is dissolved. Place batter in the refrigerator for at least a couple hours.
Prepare according to your ice cream attachment/maker instructions. If using a Kitchenaid attachment, this will take about 20 minutes. Add the desired amount of Andes mint pieces during the last 3-5 minutes.
Put in freezer for at least three hours for harder ice cream.
Happy cooking, loving, crafting, and laughing!
Suzanne